Winter Park Dentistry
 provides Winter Park and Orlando FL consumers industry leading Teeth Whitening products and services. We also specialize in Oral Hygiene and Night/Mouth Guards. Winter Park Dentistry has become Winter Park FL's Teeth Whitening business leader that offers both KöR® Whitening and NiteWhite. Our incredible customer assistance personnel is looking forward to helping you. For further information or to book a free consultation, contact us at: 407-629-2161.
KöR® Whitening
KöR® Whitening Deep Bleaching™ is the most effective whitening system in the world today. KöR Whitening is the only system recognized to significantly whiten even difficult tetracycline stained teeth within a short time.
NiteWhite
Nite White is a fast, safe, and effective tooth whitening system. The whitening gel is a thick solution, dispensed by us, then applied by you at home using a clear, soft custom fitted tray. The active ingredient in Nite White, carbamide peroxide, has been recognized by FDA for many years as an oral antiseptic and is now used for its superior tooth whitening properties. Nite White is available in a variety of carbamide peroxide concentrations to whiten even the most difficult stains.
Zoom Whitening Pen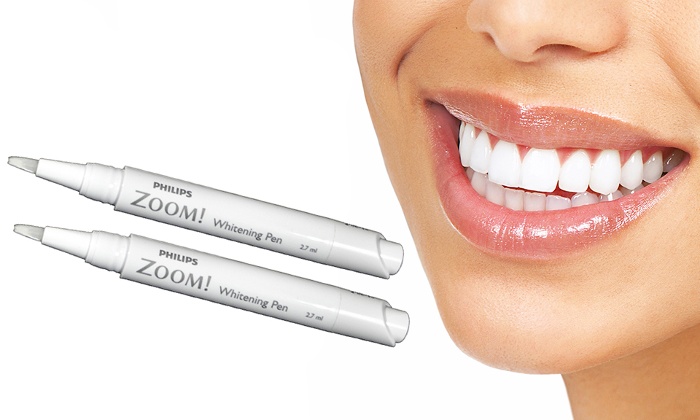 Zoom Pens are an easy to use inexpensive whitening system that uses a pen-like applicator to whiten your teeth without a mess. Ask us how you can receive one!
Zoom, the globally recognized brand for premium in-office whitening, offers the Zoom Whitening Pen as a convenient way for your patients to keep their white smiles on-the-go! The easy-to-use, stylish pen applicator brushes a 5.25% hydrogen peroxide formula directly onto the tooth to touch-up between whitening treatments.
Teeth Whitening Questions & Answers
Question: What Is Tooth Whitening?
Answer: Tooth whitening is a process that "bleaches" the teeth, removing it of stains on the enamel and dentin to affect a lightening of any discoloration present. A common tooth whitening procedure uses carbamide peroxide poured over a custom mouth-guard worn over the teeth.
Question: What Is Tooth Discoloration?
Answer: Defining tooth discoloration depends upon its many causes and it is important to distinguish between an external and internal stain.
• external stains: tobacco, tea, coffee and juices like grape and apple, coffee, tea and tobacco
• internal stains: excessive fluoride (during teeth formation), aging, trauma, nerve deneration, tetracycline (while teeth are forming)
Only professional whitening procedures such as the custom tray bleaching can remove both internal and external stains. Over-the-counter tooth whitening products like toothpastes only remove the external stains.
Question: Who Can Undergo Tooth Whitening?
Answer: Anybody can benefit from a tooth whitening procedure. A certain procedure though may be less effective for some people. Patients whose teeth are stained by tetracycline may experience difficulty in achieving the desired whiteness. People with veneers, crowns or fillings may also experience uneven whiteness because these dental fixtures do not whiten along with the rest of the teeth.
Question: Can A Pregnant or Nursing Woman Bleach Her Teeth?
Answer: It is recommended and dentists agree that a pregnant woman and nursing mother should avoid any teeth whitening procedure. The reason for this is there's no clinical studies done yet to find out the effects of the bleaching agents to a woman's health if she's pregnant or nursing.
Question: Whys Are There Teeth That Do Not Whiten Evenly With The Rest?
Answer: The sides of your teeth and the biting edges whiten more quickly than the rest. This is so because of the thicker enamel in these areas. Teeth with thicker enamel respond faster to the bleaching agent than teeth with thinner enamel. Continue with your whitening procedure and the whiteness will even out eventually.
Question: Is Tooth Whitening Safe?
Answer: The most preferred tooth whitening procedure is the custom-fit tray bleaching that uses carbamide peroxide. This procedure, when done under the supervision of an oral healthcare professional or a dentist, is safe. There's no danger of the bleaching agent harming your teeth and gums. It also does not damage the enamel or cause any tooth weakening. The only short term side-effect is tooth sensitivity which goes away quickly when the process is stopped.