If you are experiencing pain or discomfort in a tooth, you can schedule a Free Consultation with us today to evaluate if a Root Canal is your best option. 
Sometimes a toothache can be caused by a severely decay tooth. If the toothache is causing you severe pain, the nerve on the inside of the tooth may be dying or already dead. If this is the case, you'll need to either have the tooth extracted or the nerve removed from the tooth in order to alleviate the painful symptoms.  Removing the nerve and placing a root canal filling is known as a root canal.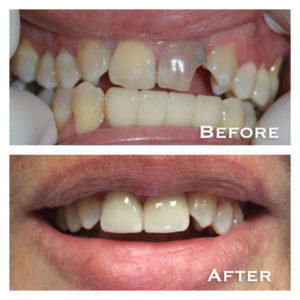 Root canals are very common procedures in dentistry and provide a safe solution for saving a severely damaged tooth. Not all teeth are painful when a root canal is needed. If a toothache is present, the root canal procedure is the only way to alleviate the pain.
Although the root canal procedure is feared by some patients, most often it is completely painless as the procedure is performed under strong anesthetic and sedation if needed.
It is important to maintain regular dental visits as the need for a root canal can be avoided if the cavity is detected and fixed in it's early stage. If a patient neglects regular dental care, often the need for a root canal can be found on multiple teeth. Please call us at (407)-629-2161 to schedule your visit with us. We hope to maintain your oral health by providing you with a painless root canal experience. We are good at this.
Root Canal Questions & Answers
Question:
Whats a root canal?
Answer:
A root canal is a procedure used to save a tooth that has either died or is going to die. Severe pain is often present when a tooth needs a root canal.  The dentist removes the nerve pulp inside of the tooth, and the internal anatomy is cleaned and sealed. The "pulp" is the soft center of a tooth that can deteriorate when the tooth is severely decayed. It's not necessary to the tooth's long term prognosis, and is only there to feel 'hot' and 'cold'. I know. It would be much more convenient if it wasn't there.
Question:
Is a root canal painful?
Answer:
Root canals typically are not painful. Most of the time they alleviate the pain from an infected or exposed nerve. A toothache before the root canal is performed has been described as one of the most severe pains a person can have. This is why root canals are so important as they remove the source of pain which is an inflamed nerve inside the tooth. After a root canal is performed, sometimes there is a dull ache from the surrounding tissues that are either still inflamed (although will heal with time since the infected nerve has been removed) or irritated from the actually root canal procedure. This pain usually subsides within a day or two and can be easily managed with Advil and mild pain medications if needed.
Question:
What type of dentist performs root canals?
Answer:
Many general dentists perform root canals and root canal specialists are called endodontists.  One advantage to having us perform the root canal is we will also be able to prep the crown in the same appointment.  This will save you from an extra appointment to see an endodontist and then go back to a general dentist for the crown prep.
Question:
Pain after root canal?
Answer:
The pain may come from:
1. The infection outside the root tip. Root canal treatment can only clean infected material inside the root chamber but not outside the root; antibiotic and your immunity help clear up the infection at the root tip.
2. If you have a lot of infection outside the root tip; it is possible to make the tooth higher than normal and will cause pain when bite down.
3. Sometimes irritation from the root canal filling may be present. However, this resolves itself within a day or two. It can also easily be managed with Advil or other mild pain medications.
Question:
Why are root canals performed?
Answer:
Root canals are performed to save a damaged tooth that has nerve exposure or infection. The nerve of the tooth has no way to repair itself.  If the nerve is not removed, an abscess will form destroying bone under the tooth and surrounding areas. As this infection grows it can invade surrounding areas of the body including the brain. A severe infection can place somebody at risk for their life and in the hospital.
Question:
Are root canals safe?
Answer:
There has been an overwhelming debate on root canals and their safety. The majority of this debate comes from internet resources and are not supported by scientific or clinical data. It is important to understand that a root canal can be performed poorly, however. Sometimes not all of the nerve is removed and sometimes not all of the infection is removed. Here at Winter Park Dentistry, we work closely with multiple specialists in root canal therapy. Our purpose is to provide top-notch care that involves the highest technologies in the field of endodontics. Our team will ensure you that your treatment will be performed to the highest quality of care. With properly performed protocols, we insure that your root canal will have the highest level of success and safety. If you are still wary about root canals, we would be more than happy to discuss alternatives such as dental implants to replace damaged teeth.
Call us today for a Free Consultation to discuss your options! 407-629-2161