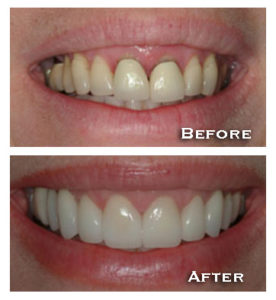 Affordable, Dependable, Realistic Crowns from a highly-reviewed 5 star Winter Park Dentist!
In the last decade all-ceramic crowns or metal free crowns have grown in popularity.  These crowns contain no metal or grayness in their substructure giving them a very lifelike appearance.
What are the advantages of all-porcelain crowns?
A natural, life-like appearance
Luminescent color layering
Added strength and protection
A metal-free restorative solution
A safe, biocompatible alternative to renew your smile
Advancements in functionally aesthetic dentistry have paved the way for Dr. Peter Kelly to offer all-porcelain crowns  that not only display a radiant, natural-looking appearance but also provide extraordinary strength and wear resistance. These crowns can restore badly decayed or structurally unsound teeth providing essentially a "helmet" for the tooth.
We like to use a local lab, Sakr Dental Arts, for our crown fabrications. They are located here in Winter Park and provide hyperrealistic prosthetic solutions. Call us at 407-629-2161 to schedule a free consultation regarding any crowns or cosmetic veneers you may need.